D. I. Y. : CopyCat Anthropologie Letters
Who loves Anthropologie, raise your hand.. I love everything from their heavenly candles to laidback bohemian clothes & don't get me started on their kitchen items, swoon for days. Chase bought me an apron from Anthro for Christmas last year and I love it so much I don't want to get it dirty (defeats the purpose of an apron huh). Anyways I love Anthro, So I wanted to recreate the Zinc letters they sell which are a great accent for a house. Each letter is $18 dollars & if your looking for their oversized ones those bad boys can set you back $98 dollars each but hey they're cute. Here is my inexpensive DIY Zinc letters.
What You Will Need:
1. Letters: Pick some letters of the word you want. Pick whichever size will look best of your wall.
* I bought mine at a super Walmart for less than $2 dollars each to spell the word 'EAT' to put in my kitchen
2. Spray Paint: Should be a Metallic finish to get the look
* I bought Rust-oleum in Metallic also at a super Walmart for less than $5 dollars
3. You'll need an outside area and some newspaper to place beneath the letters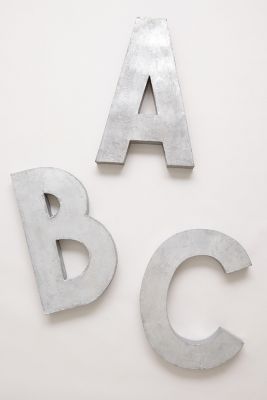 * Anthropologie Letters
This is how my letters came out, now they're sitting pretty in my kitchen. So easy, cheap, and great décor..
Thanks For Stopping By
XOXO, JB